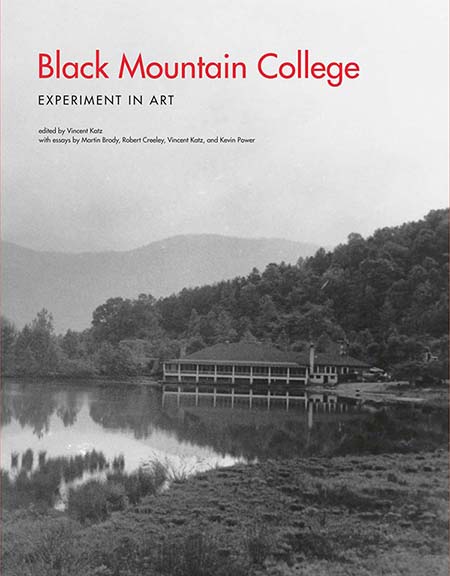 Black Mountain College: Artists Experimenting With Power (excerpt)
by Vincent Katz
Perhaps ultimately it was more about seeing, as the man said, than about an idea. When you look at the work of the diverse talents who, at one time or another, composed Black Mountain College, the underlying factor seems to be the desire to see in a new way, free from previous restriction. Thought about in this way, momentarily distinct from the rhetoric that bound and binds so much artistic endeavor, the art is free to be seen afresh. When there is a use of abstraction, as there so often was in those days, maybe we can see it now as less an idea and more a way of seeing.

During the 23 years of its existence, from 1933 to 1956, Black Mountain College, in southwestern North Carolina, was a magnet for artists who were making their names. What was encouraged, what was engaged in at Black Mountain -- both by student and by artist/teacher -- was experimentation. People felt free there to undertake those activities that were geared toward finding new ways of doing, rather than learning and repeating the past. For the artists who taught, the Black Mountain sojourn was one of great fertility, and, like the shaman who goes on a trip in search of experience, these artists derived much personal strength from their artistic voyages. Upon leaving Black Mountain, and returning to the real world, this personal power could find itself translated into worldly power in the artists' careers. Black Mountain was a place where relationships were forged or strengthened that had repercussions later on, a place where people made important connections. Work that could seem slight or casual when first realized ultimately achieved the support, sometimes verging on apotheosis, of museums, critics, galleries, collectors, and publishers. This going from experimentation to power happens regularly in the arts -- it is a function of the artist discovering a way to do something that no one else has or can. What does not regularly happen is that one academic institution attracts such a high number of students and faculty who make that transition with such astounding frequency. Another shocking thing is the size of the college, which averaged about 50 students at any one time. Part of the story has to do with a link between Black Mountain and New York. Artists who exhibited at the Museum of Modern Art and such galleries as Peggy Guggenheim's Art Of This Century, Charles Egan Gallery, Sam Kootz Gallery, and Betty Parsons Gallery were among those who taught at the College. Black Mountain was not a random selection but rather attracted artists with ambitious ideals. Why Black Mountain? We find the sources of its nature right at the beginning.
I. The Beginning
A figure who has almost vanished from public consciousness is the key to the Black Mountain story: John Andrew Rice. Raised in South Carolina, a Rhodes Scholar at Oxford, he later became an innovative teacher and educational theorist, colleague of John Dewey. Basically, he aspired to teach philosophy as Socrates might have, by a constant questioning among participants, the teacher the leader, perhaps more experienced in the manner of pursuit, but not ultimately the possessor of The Answer.
For this approach -- and its concomitant slighting of established "syllabus" -- Rice was fired from his position at Rollins College in Florida in early 1933. An independent examination later exonerated him, but by that time Rice had gathered a group of others who chafed under the too-rigid method that was, and in many cases still is, universal at educational institutions. This group of teachers and students decided to try to found their own institution.
This new place would have certain built-in pedagogic safeguards, the most important of which was that there was to be no governing board. It would be run solely by the teachers with real input from the students. Students would be free to create their own patterns of studying, their careers divided into Junior and Senior divisions. In the Junior division, teaching would be in small classes; in the Senior, largely on a tutorial basis. Interestingly, the new institution took elements -- the bipartite division and tutorials-- from the Oxford system. There would be no credits, and no accreditation. When a student felt he was ready to graduate, he would request an examination, which would be performed by an outside examiner.
As Rice put it in an essay written in 1935, "...those who are responsible for the founding of the College reverted to a form of government found in the older universities of England and once fairly common in this country, namely, government by the faculty, or self-government. The proper function of a Board of Trustees is performed by the College by an Advisory Council, composed of men and women distinguished in the educational world and the world of affairs. But the legal responsibility for the conduct of the College rests in the faculty and the principal student officer. The idea of including a member of the student body on the Board was borrowed from the Middle Ages."
In addition to regular meetings between student officers and the elected faculty "Board of Fellows," matters of grave importance would be discussed by the entire faculty and student body. Everyone could speak at these meetings, the only restriction being there would be no voting. At the end of a discussion, the Rector would give the "sense of the meeting." If this proved impossible, the issue was postponed for further discussion.
In effect, these basic organizational principles were adhered to for the duration of the College's existence. They proved its great blessing, its difference, and also, frequently, its difficulty. The freedom of structure, combined with the small, but devoted, faculty (remuneration being minimal, the faculty was always there out of personal desire), would be the hallmarks that enticed the parade of figures -- both student and faculty -- who would play significant roles in the history of twentieth-century art.
One major drawback to not having a board of trustees was the lack of a predictable financial basis, and this would plague Black Mountain throughout its twenty-three year history. There were many times when the future of the institution was in doubt, and its final years were ones of material paucity. One of the founding teachers, along with Rice, was the physics instructor Ted Dreier, who was the nephew of the collector Katherine Dreier. Ted was an indefatigable fund-raiser and his connections to high-powered New York art circles would prove crucial.
On September 25, 1933, Black Mountain College opened near Asheville, North Carolina, at a site used by the YMCA during the summer and unused the rest of the year. The College's first years were spent at this Blue Ridge campus, with most of the activities taking place in Robert E. Lee Hall, a building with a huge porch and massive wooden columns, giving the proper atmosphere of American classicism. In place of physical education, the College would have a required work program for the students, which, with a 1,600 acre-property at their disposal, could be anything from vegetable farming to raising animals to building and other maintenance projects.


In a May, 1937, article in Harper's Magazine, Rice responded to the philosophy of Robert Hutchins, president of the University of Chicago, who famously promoted a "great books" curriculum. He argued that theoretical habit, which is mainly what institutions of higher learning, then as now, promote, should not be divorced from, but rather integrated with, other forms of knowledge and experience. He even went so far as to say that language can exist beyond thought. "If by any chance," he writes, "you ever say what you think without thinking what you say, it is obviously often language that makes the choice, and there may be no thought discoverable in it anywhere. Here language calls for language as one tune calls for another."
In 1936, Louis Adamic wrote an article, also published in Harper's, about his experiences spending two and a half months at Black Mountain. Some of his article is based on Rice's 1935 essay on the college. Through Adamic's article, and the large readership it reached, the Black Mountain experiment became widely known, and it was because of the article that many students decided to attend Black Mountain College.
"BMC is one of the smallest colleges in existence," Adamic writes, "at first inevitably, now deliberately so. It is not only a place where one can take most of the courses available in other colleges, but where one is obliged to live as an integral part of a close-knit social unit; so close-knit indeed that it has characteristics of a huge family -- and this latter fact...is as important in the scheme as is class work." The social structure at Black Mountain -- the proximity of the living situations -- would fuel fierce acrimony and remarkable collaborations in the years ahead.
"Group Influence" was how people at the college described the collective effect of bringing people out of their shells -- sometimes a painful process of dropping pretenses and defenses, other times a warmly welcomed sense of inclusion. "Also," Adamic writes, "...one belongs, functions, is 'important' in BMC. One, too, is constantly invited, verbally and by implication, to be intelligent, to mature... The BMC community, so to speak, psychologically strips the individual, and there he stands revealed to everyone, including himself -- and finally likes it."
In a quote in Adamic's article, Rice says his classes strive for "group thinking, cooperative intelligence," in which the individual achievement is subordinated to a collective effort, which would have political, as well as intellectual, implications. Adamic believed that Black Mountain would serve as a vehicle for social change, an antidote to the individualism that he saw sterilizing American society. He even thought, somewhat fantastically, that Black Mountain would send out offshoots, clone-institutions of self-determined education that by 1950 could number three hundred. Suffice it to say, he underestimated the difficulty of keeping just one experiment alive.
Rice also thought it essential that a college teach the works of its own time, as well as the classics. As he puts it, "If you can stand a little bootleg stuff, Gertrude Stein's Lectures In America is headier than Aristotle's Poetics or Horace's Ars Poetica. And, if that will make it more palatable, harder reading."
Rice was convinced that the arts should play a central role in a college education and for that reason determined that Black Mountain should find a significant artist to lead the art instruction.
He did not want Black Mountain to be an art school; rather, he felt that the arts should be at the center, not the periphery, of a student's educational experience. As he wrote, "There is no expectation that many students will become artists; in fact, the College regards it as a sacred duty to discourage mere talent from thinking itself genius: but there is something of the artist in everyone, and the development of this talent, however small, carrying with it a severe discipline of its own, results in the student's becoming more sensitive to order in the world and within himself than he can ever be through intellectual effort alone."
The community life of the College was essential to Rice's vision: "But the individual, to be complete, must be aware of his relation to others. Here the whole community becomes his teacher." As Adamic puts it, "Let me be as explicit as I can in saying that the place is a process, a way of education (which, in the BMC concept, is synonymous with life)..."